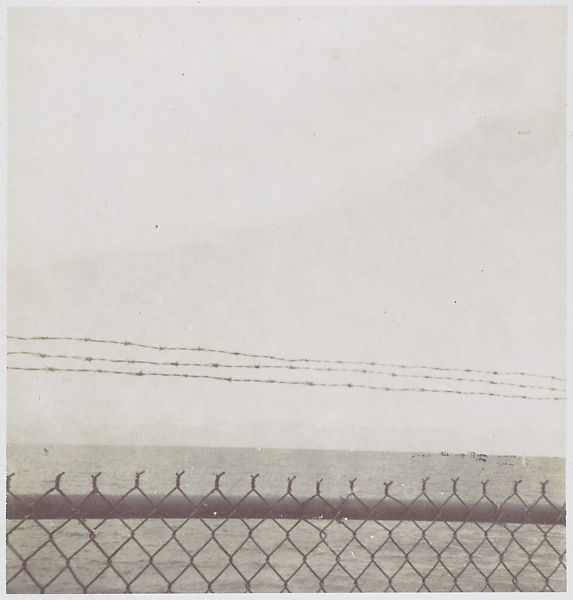 The earliest work by Felix Gonzalez-Torres in the Metropolitan Museum's collection is also the smallest. It is untitled, an instant black & white photo of the sea through a Cuban fence. It's about 2.75 inches square. It is signed and dated 1985, and has a fragment of a magazine collaged on the back that reads, "THE BO–/ ANYMORE." By the time it was acquired at the end of 1996, the year of the artist's death, the Met had already acquired two similar sets of photos by Gonzalez-Torres: photogravures of sand, and cloudscapes. Similar, but different: this one is not an artwork. "Although made, signed, and dated by the photographer," the catalogue entry reads, "Gonzalez-Torres thought of works such as this [photo] as lying outside his core oeuvre."
Published in 1997, just in time to record the Met's acquisition, the Felix Gonzalez-Torres Catalogue Raisonée has three categories: Works, Additional Material, and Registered Non-Works. The photo above is in the second category. When the CR was released, Gonzalez-Torres was the most important artist in the world to me, and I wanted more of his works, not fewer. I was upset for these somehow downgraded works, and for the sleights they faced in the discourse, the gallery, the market. I couldn't accept that the same artist who'd shown me that the most remarkable things could be art–a pile of candy, a stack of paper, a jigsaw puzzle, a pair of clocks–also said they couldn't be.
My incredulity over Felix's work fueled a years-long contest with the declarative process, what artists called objects, what they kept, what they destroyed. It helped me keep an eye out for these marginalized–and invisible, since there weren't even any pictures–works. But even as I developed more nuanced appreciations of [other] artists' agency, these non-art designations still gnawed at me. Until the other night, when I started writing this. It's been almost 25 years: what's going on?
Continue reading

"Soft-Core: On Additional Material and Non-Work"